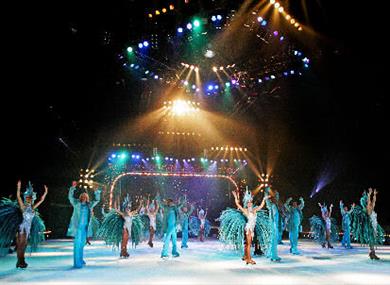 The world's most spectacular ice show is back! Pleasure Beach,
Blackpool is delighted to announce the return of Hot Ice for the 2011
season with a fantastic new production.
This show is fast moving and thrilling, with skaters who have
travelled from every corner of the globe to entertain you with speed,
grace and elegance, whilst balancing on the fine edge of steel.
Hot Ice was recently awarded "Best Show" at the Big E awards in Las
Vegas. It features the best in ice-skating, including stylish costumes,
unbelievable feathers and glittering rhinestones to set the ice alight
with sparkle. The show boasts innovative lighting designs and special
effects that will thrill the audience.