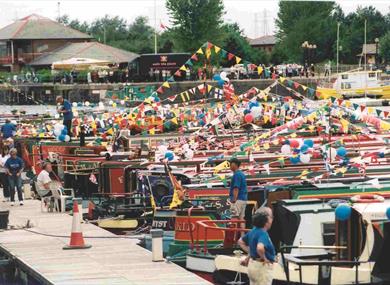 Celebrating the fantastic waterborne traditions of this powerhouse of
the Industrial Revolution, the Riversway Festival turns the clocks
back, pre-1981 when the Preston docks closed for business. Now part of a
major rejuvenation scheme, Riversway has become a great place to go for
all the family.
The Docks provides an idyllic backdrop for this summer festival that will get you hooked to the area.
Friday: 5pm - 11pm
Tuff Life Boogie and They Eat Culture brings you an evening of new music and cultural delights.
Tickets on sale from The Continental and Tourist Information Centre.
Saturday: 11am - 5pm, 7.30pm - 11pm, Sunday: 11am - 4pm
• Pirates, mermaids and sea creatures
• Art and craft market
• Preston Guild singing workshops
• 2012 - 20 UK best ales plus 12 ciders and 12 Perrys
• Live music
• Boating fun
Come and join us down at the docks for what promises to be a fantastic weekend.